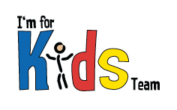 I'm for Kids Team is a Community-Based Early Intervention Program for children ages 2½ to 6 years with a play-based approach and developmentally-appropriate programming.

Each child/ family becomes part of a Multi-Disciplinary Instructional Team consisting of Speech Language Pathologist (S.L.P), Occupational Therapist (O.T.), Physical Therapist (P.T.), Psychologist (Psych.), Special Needs Assistant (SNA), Therapy Support Assistant (TSA), and Program Coordinator (Special Education Teacher).

Our Service Delivery Model supports the inclusion of our assigned children into their respective community preschools. We currently have partnerships with over 65 private preschools: Okotoks, Airdrie, Crossfield, Strathmore, Chestermere, and all 4 quadrants of Calgary.

All programming decisions for each child are made in the "Best Interests of the Child" philosophy and in collaboration with the parents and the child's Instructional Team.

All Special Needs Assistants (SNA) have post-secondary education and/or extensive experience in Early. Childhood settings and attend mandatory monthly training sessions to enhance existing skills and talents.

I'm for Kids Team's Professional Team consists mainly of full-time/ part-time staff of Speech Language Pathologists, Occupational Therapists, Physical Therapists, and Psychologists. Each team member is carefully selected on education, experience and passion for children.

We celebrate each child's successes "one step at a time".

Our primary goal for each child is to prepare them for more formalized learning in Kindergarten or Grade One.

We plan extensive transitions for each child moving on to the public/private school systems or on to a new private ECS Operator.

Our team model is unique and exemplary in its work and in its commitment to our children, families, private preschools and colleagues. Our passion is contagious!
The goal of an inclusive education system is to provide all students with the most appropriate learning environments and opportunities for them to best achieve their potential. Inclusion is about ensuring that each student belongs and receives a quality education/experience no matter their ability, disability, language, cultural background, gender, or age. An inclusive education system is best realized when leadership is shared between school, home and family.  Schools reflect the attitudes, beliefs and health of the communities they serve and must be equipped to reflect inclusive practice.
Adapted Fromhttp://education.alberta.ca/department/ipr/inclusion/about.aspx
Through play children explore their world, discover how to get along with others, test their skills and muscles, try out new ideas, and feel competent enough to try different activities (i.e. we utilize a multisensory teaching model to enhance learning). Curiosity, Self-esteem, Language, Problem Solving, Cooperation, Endurance are just a few of the many kinds of learning involved in play. Adults can encourage children to play in ways that are valuable by setting the stage for them and, when appropriate, extending the children's ideas during play.
Visit www.imforkids.org for more information.
HUMANITY IN PRACTICE
Humanity In Practice (h!p) is about connecting people to simple opportunities that create powerful results!
Our mission is to connect people to causes by creating fun & simple ways to practice humanity.  We vision a city where it is easy for anyone, regardless of age or circumstance, the opportunity to make a difference.
h!p was founded in 2005 as a way to engage children under the age of 12 in the practice of philanthropy. Over time, it has evolved, working with 80+ Calgary agencies to create simple ways that anyone can help with.
 h!p is about helping others.  It is about having the opportunity to help others.  We believe that simple, small acts of kindness can change the world.  
 h!p is a growing community of people of all ages and all capabilities who want to help without committing to a long term or frequent volunteer position.  We work with local agencies, listening to what they need and creating an opportunity or project that will help them with that need.
 We promote new and episodic opportunities through a (free) monthly newsletter we email to our volunteers. 
For more information, visit their website at behip.ca